Five places in Russia for travels at any time of year
Russia is a huge country, you can see a lot of different sights and visit picturesque places with unique nature regardless of the season. In confirmation of this, there are 5 places in our country, which simply must be visited by every traveler.
Kamchatka
Volcano eruption on Klyuchevskaya Sopka in Kamchatka
One of these is the Kamchatka Peninsula. Kamchatka is famous for its magnificent scenery and virtually untouched flora and fauna. The uniqueness of the peninsula lies in its relief: on its territory there are many active volcanoes, the largest of which is Klyuchevskaya Sopka (4750 m). All of them are part of the Pacific Ring of Fire. Kamchatka also has hot springs, picturesque lakes, and the Kronotsky Reserve.
Altai Mountains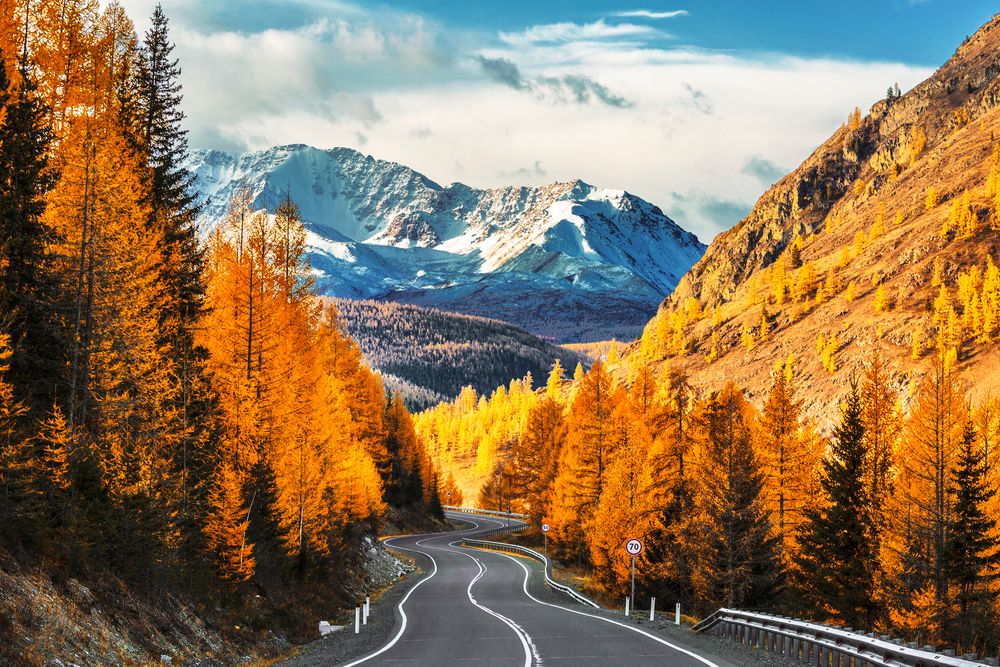 Chuisky Road and autumn taiga
It is very difficult to single out something in particular, because this whole area of the Altai Republic can be called one of the priceless treasures of Russia. Altai Mountains are considered to be the place of power for a reason, and here you can see a lot of healing herbs and get acquainted with the ancient traditions of the people who lived in this area. The time of year doesn't matter, because each season has its own advantages: summer and early autumn are perfect for hiking, excursions in the fresh air, and in colder times you can explore the culture of the region by visiting thematic excursions, or go to a ski resort. In addition, you can take part in various hikes and rafting on bubbling rivers to get unforgettable sensations and enjoy the unique mountain scenery. If you like active rest and want to get incomparable emotions, Altai Mountains is the place you have to visit.
Lake Baikal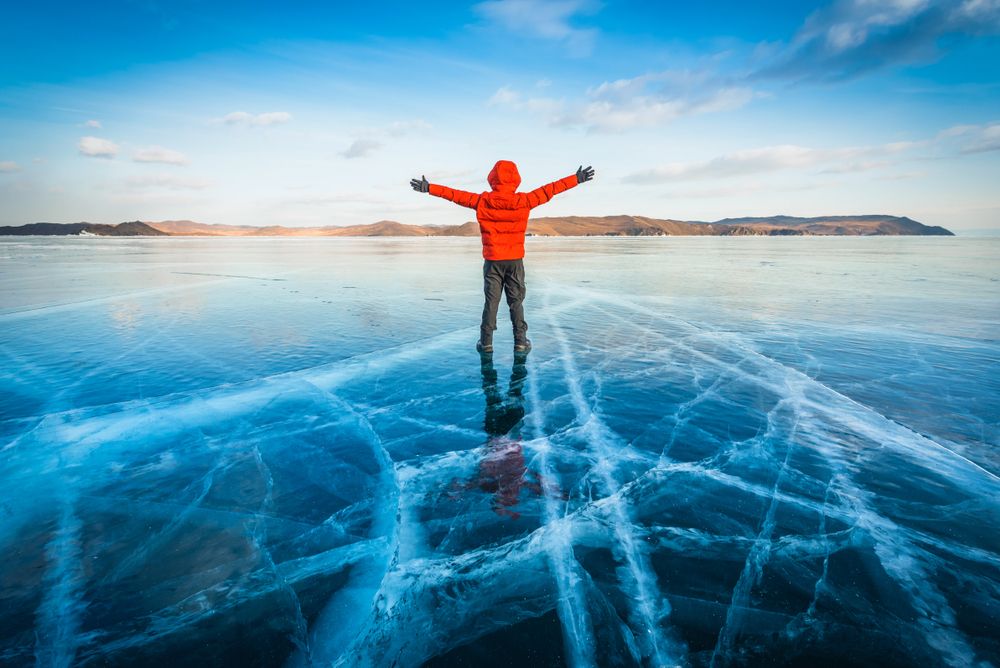 Frozen Lake Baikal
As you know, another unique place in Russia and around the world is this body of water. Many foreign tourists dream to see this natural wonder. The scenery, surprising with its unique beauty, will leave no traveler unmoved, because Baikal is the largest lake in the world. However, it is unique not only because there is no other place else with such a huge source of fresh water, but also because you can relax here in any season. The water in this reservoir is unusually clean and transparent, which is capable of mesmerizing, because it is one of those "things you can look at forever". In the winter, it freezes and forms ice of extraordinary beauty. Lake Baikal is quite large in length, so the variety of scenery on its shores is amazing.
City of Kislovodsk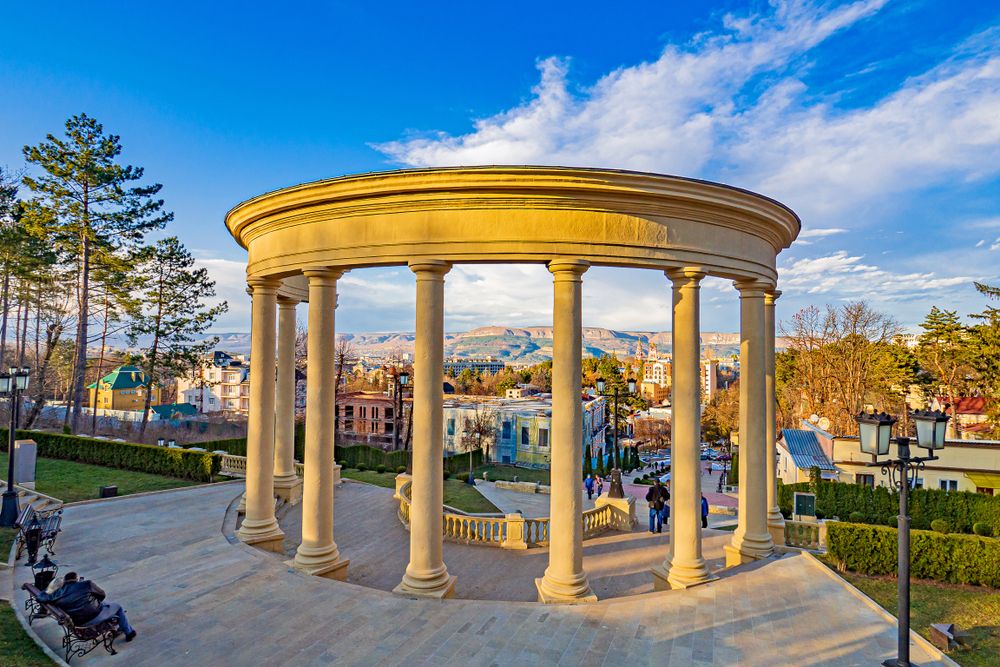 Kislovodsk is beautiful in any season
A trip to this place is suitable for those who would like not only to enjoy nature and see various sights, but also take care of their health. It is here that the mineral springs are located, which are known as the narzan springs. Drinking water has medicinal properties and is very valuable all over the world. The city is located in the Caucasus, so it can't do without beautiful views, which inspired many Russian writers – classics. It is logical to suppose that in such a city should be a lot of resorts and pensions – and it is, you just will be where to stay and comfortably spend your vacation.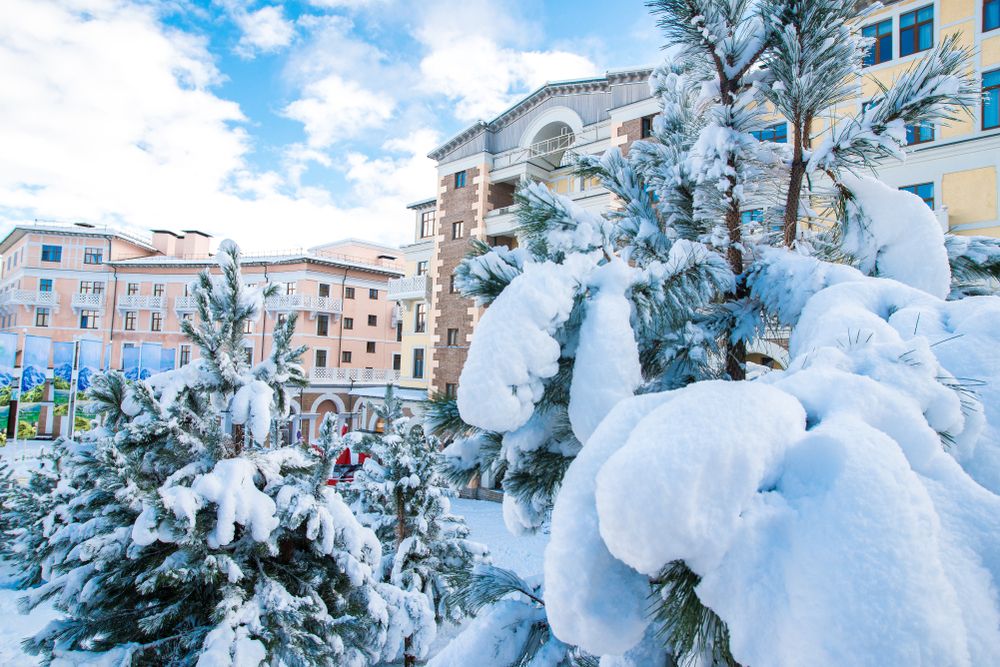 Winter fairy tale in On Krasnaya Polyana Sochi
This beautiful sunny city, with a subtropical climate atypical for Russia, welcomes guests regardless of the season. In summer, tourists especially like to visit the complex excursions in the wooded area, as in the city can be very hot. Vacationers watch the famous "33 Waterfalls", you can also go to the "White Cliffs. Everything is striking in its beauty and uniqueness.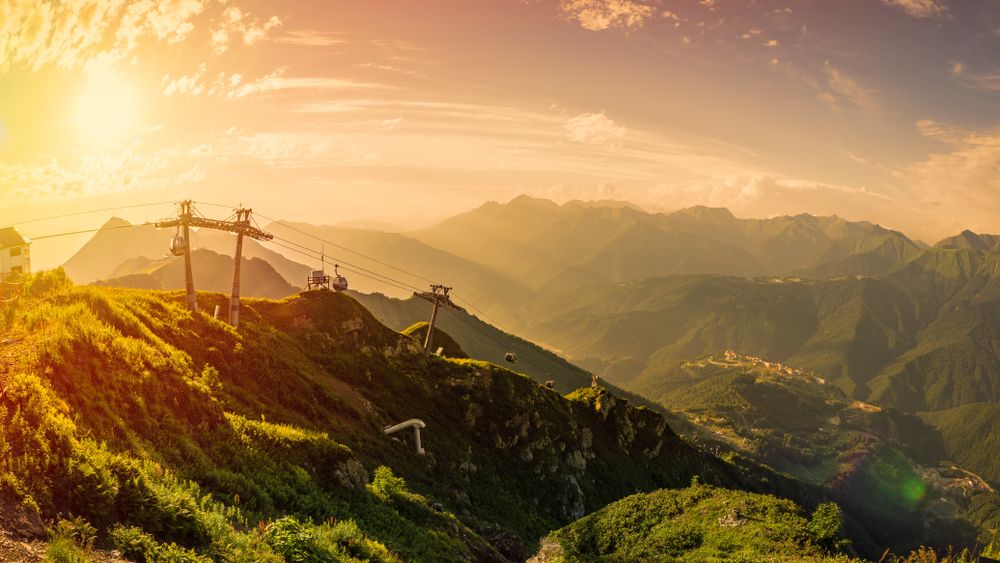 Sunset in the mountains of Sochi
This resort is suitable for absolutely everyone: for fans of outdoor activities – hiking in the mountains in autumn and ski resort in winter, for fans of art and nature – the unique vegetation and various museums, and those who want to relax from the bustle and gain strength will find a hotel or resort with a view of the sea. In Sochi you can vacation all year round, but there is a so-called "Indian summer" (August – September, October), the most comfortable in terms of air temperature. Abundance of ripe fruit, tender and warm sea, as well as atmospheric evenings, ideal for walks, will not leave anyone indifferent.